2019: The Settlers | Buildup strategy game | Official Website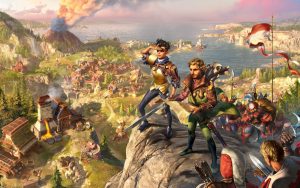 We are collaborating with Ubisoft Blue Byte in the creation of the next installment in the build up strategy series The Settlers created by our Creative Director Volker Wertich 25 years ago. Our team joined forces with Blue Byte to provide Creative Direction and game play programming. The game has been announced at Gamescom 2018.
2015: Path of War | Mobile strategy game | Official Website & Download

Path of War – The fate of the free world is in your hands in this MMO combat strategy experience of American conquest. Forge cooperative alliances and together expand the ever-growing borders of your new empire. Race to Washington, D.C. and burn a path of destruction across a 1:1 scale U.S. map. Design, command and upgrade your mobile HQ and wage war against rivals in PVP combat. Path of War is the ultimate MMO strategy experience on your mobile device.
Path of War has won "best mobile game" at the German Video Game Awards in April 2016.
2012: Command & Conquer: Tiberium Alliances | F2P browser game | Official Website


Originally created by the EA Phenomic studio and team, Envision Entertainment announced in April 2015 to further develop Command & Conquer: Tiberium Alliances in cooperation with Electronic Arts.
C&C: TA is a massively multiplayer RTS game. It was published by Electronic Arts and is set in the famous Command&Conquer-Universe. Nicest press quote: 'Once the game lets go of the reins and gives you predominant command, Tiberium Alliances is a very satisfying experience filled with variety and challenge. […] The game sets itself apart with cool gameplay features that make this one of the most well-rounded tactical adventures available to social gamers.' (Gamezebo, USA)
Games by Phenomic:
As the company is the spiritual successor of Phenomic Game Development and EA Phenomic, we've taken the liberty to list the games made by those companies.
2010: Lord of Ultima | F2P browser game


LoU is a strategy MMO set in the Ultima-Universe. It was published by Electronic Arts. Nicest press quote: 'One of my favorite things about Lord of ultima is just how easy it is to use. A lot of MMORTS games bog you down in menus and small details to keep you distracted from the fact that there's not a huge amount of meat to the game. Lord of ultima does away with all that, offering instead a two click build menu (once in the place you want, once to choose the building type).' (Devil's MMO, USA)
2009: Battleforge | F2P client game


BattleForge is a fantasy online real-time strategy game where you assemble your own army with collectible trading cards.  It was published by Electronic Arts. Nicest press quote: 'EA Phenomic has successfully pulled off a surprisingly natural convergence of two very different types of gameplay. The combination is wickedly addictive. ' (Cheat Code Central, USA)
2006: SpellForce 2: Shadow Wars | retail game


SpellForce 2 is the successor of The Order of Dawn and expands on the  innovative RTS/RPG gameplay. It was published by Jowood and Aspyr. In 2007 and 2012, expansion packs were published. Nicest press quote: 'An ambitious effort, and a definite success. Conveying an interesting story with beautiful graphics, great voice acting, a nice soundtrack and a tight control scheme, very few flaws are to be found in SpellForce 2.' (Just RPG, USA)
2004: SpellForce: The Order of Dawn | retail game


SpellForce is an innovative RTS/RPG hybrid game with a strong focus on the hero. It was published by Jowood and Encore. In 2004 and 2005, two expansion packs were published. Nicest press quote: 'A title that deserves credit for breaking the cookie-cutter mold that RTS games have fallen into. Even maps with simple goals can turn into endeavors that last for hours if you take time to smell the roses and just enjoy playing with powerful, fully customizable avatar with the ability to raise a monstrous force.' (Gamer's Pulse, USA)
Before that, members of the Envision team have collected credits with games of many genres from Shooter to Sports to RPG. Here's a selection:
The Settlers I (1993, Blue Byte, Inventor, Programmer, Writer: Volker Wertich)
The Settlers III (1998, Blue Byte, Lead Programmer: Dirk Ringe)
Sudden Strike (2000, Fireglow, Producer: Martin Löhlein)
Arx Fatalis (2002, Arkane Studios, Project Director: Boris Kunkel)
AquaNox 2 (2003, Programmer: Mark Novozhilov)